Description
There is no refurbished or used merchandise.. All brand new retail ready from the Manufacture.  
Items shipped from J&D Discount World – Arlington Tx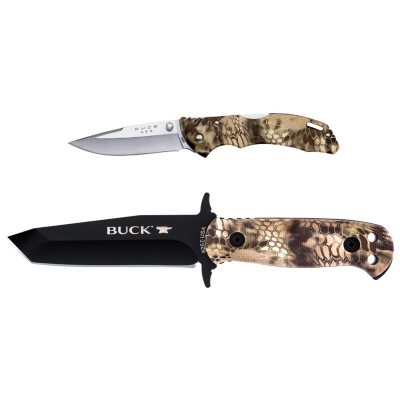 Buck Knives Intrepid/Bantam Kryptek Highlander Gift Set
This Intrepid/Bantam knife set is useful on the road, in the woods, at home–and everywhere in between. Whether you plan to keep them in your car's emergency bag, your hunting pack or on your belt, you'll find a variety of uses for each knife. Since the set includes both a fixed blade knife and a folding knife, you'll always be prepared. Because both knives are made by Buck Knives in the USA, you can be confident that both knives will stand the test of time.
Intrepid Fixed Blade
The Intrepid fixed blade knife has a 5″ tanto blade, and comes with a M.O.L.L.E. compatible heavy duty sheath, so access should never be an issue. Its full tang 420HC steel blade gives it plenty of heft for the variety of outdoor uses it excels at.
Bantam Folding Knife
The Bantam folding knife is solid as a rock. There are few knives in existence that match the Bantam in dependability, convenience and functionality. The 3-1/8″ 420HC drop point blade is an all around workhorse, perfectly sized for a variety of tasks. The Bantam has a variety of carry positions, a comfortable grip and a solid lock back design that lets you grip and cut with confidence.
Both knives come with innovative Kryptek Highlander camouflage
Intrepid fixed blade knife has solid 5″ 420HC steel tanto blade
Bantam folding knife fits a 3-1/8″ 420HC steel blade into a lightweight, 2.4 oz. package
Features
Intrepid Fixed Blade
5″ Tanto Blade, 420HC, full tang, black traction finish 9.5″ overall length, 7.7 oz. Injection molded nylon grip dipped in Kryptek Highlander Camo
M.O.L.L.E. compatible sheath for a variety of mounting and carrying options
285 Bantam Folding Knife
3-1/8″ drop point blade, 420HC, stainless finish
Removable pocket clip, includes lanyard hole
Convenient one-hand opening with thumbstud
Lock-back design
Injection molded nylon grip dipped in Kryptek Highlander Camo