Description
There is no refurbished or used merchandise.. All brand new retail ready from the Manufacture.  Brand new mfg sealed in original box.. 10 out of 10.. Retail ready!  Save over $200 off retail!

KitchenAid Professional Heavy-Duty Stand Mixer Pistachio KG25HOXOB msrp $449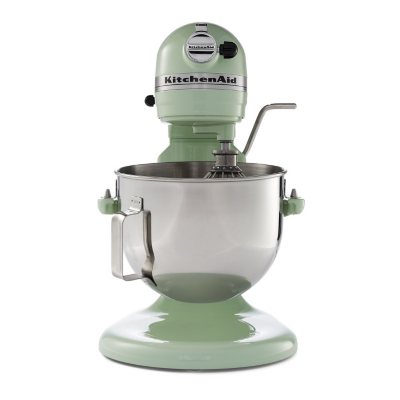 Brand: KitchenAid
Model: KG25HOXOB

Extremely versatile and efficient, the KitchenAid Professional Heavy-Duty Stand Mixer will become your go-to workhorse for so many cooking and baking projects. There are ten speeds for preparing different types of batter and for whipping cream. With the five-quart capacity bowl, you can mix dough for nine dozen cookies, four loaves of bread or seven pounds of mashed potatoes in a single batch. The stand mixer comes with a burnished metal flat beater, PowerKnead™ spiral dough hook and 6-wire whisk, which allow you to mix, knead and whip ingredients into culinary masterpieces quickly and easily. The power hub also works with optional KitchenAid attachments, such as food grinders and pasta makers.
Five-quart capacity bowl
All-metal construction
Ten speeds
Easy to clean
Features
Powerful 525-watt motor with direct-drive transmission
All-metal construction with steel gears
Multi-purpose attachment hub with hinged hub cover
Features a unique mixing action that is quick and thorough
Stand Mixer includes:
5-quart capacity mixing bowl
PowerKnead™ spiral dough hook
Wire whip attachment
Flat beater attachment
Proudly Designed, Engineered and Assembled in the USA