Description
There is no refurbished or used merchandise.. All brand new retail ready from the Manufacture.
PicoBrew Craft Beer Brewing Appliance incs: $100 gift card future PicoPaks
Please contact me for shipping options with FedEx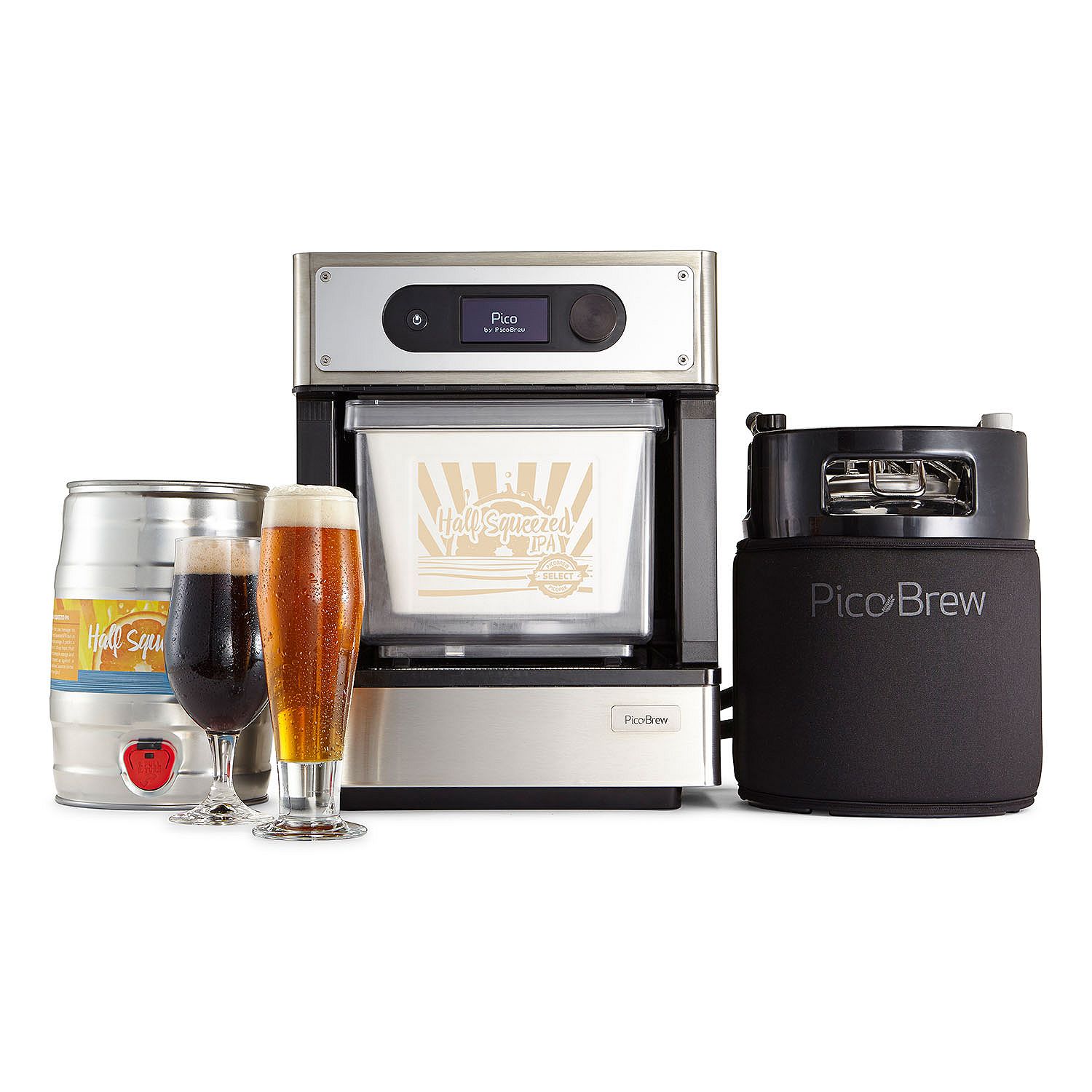 About this item
Brew your favorite beers from award-winning craft breweries
Ready-to-brew PicoPaks produce high-quality beer every time
Earns high marks from newbies and experienced home brewers
Compact appliance fits right on your kitchen counter

Includes $100 gift card for future PicoPaks
Description
If you can make coffee, you can brew craft beer. With the PicoBrew Craft Beer Brewing Appliance, simply push a button to brew any beer style you want—IPAs, session ales, stouts, porters and more. PicoBrew uses ready-to-brew PicoPak ingredient kits of fresh hops, grains and yeast featuring award-winning recipes from more than 150 breweries. The innovative appliance recognizes the PicoPak you insert for craft brewing perfection. You can dial in the bitterness or ABV (alcohol percentage) you prefer. If you want to experiment even more, you can create a custom brew. This countertop-sized appliance can brew five liters of craft beer in two hours and grain-to-glass serving time as little as one week. Nothing beats a cold beer except, well, a cold craft beer you brewed yourself.
Specifications
Easily ferment, carbonate and enjoy fresh craft beer
Brews 5L (5.2 qt.) of beer at a time
Easy-to-read digital display; wifi connected
Adjust ABV (alcohol) and bitterness to your preference
Choose fast fermentation (5-7 days) or standard fermentation (10 days)
PicoPaks are available from more than 150 breweries from around the world
Features a sous vide adapter. The sous vide cooking technique allows moisture to be retained in the food while achieving tender, delicately flavored results. Award-winning chefs, including those featured on TV shows "Iron Chef" and "Top Chef", use sous vide for meat, fish, veggies and more.
PicoPaks are biodegradable and compostable after use
Easy to clean
Weighs 24 lb.
Compact unit doesn't require assembly
Includes:

One PicoPak from an award-winning brewery
One brewing keg
One dispensing keg
Brewing keg seal, stopper and keg lid
Keg cozy for maintaining brewing temperature
Fast Fermentation Adapter for decreasing fermentation time
Dispensing keg plug
Dip tube brush for brewing keg cleaning
Two keg wands for system cleaning
Racking tube for transferring wort from brewing keg to dispensing keg
CO2 regulator and adapter for dispensing keg
Cleaning tablets for deep cleaning
Assembled Size
12″W x 14″D x 16″H
Component Country
USA And Imported